Soilart Vernissage in the Czech Republic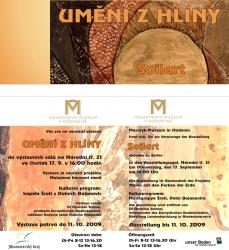 On September 17, at the Museum at Hodonin there shall be a vernissage of the "Soilart" exposition. Under the artistic guidance of soil colour artist Irena Racek, various pieces of art from Lower Austria shall be exposed.

Place: Hodonin (CZ)
Time: 2009-09-17, 4.00 p.m.
br>
Contact
Association BIENE
(Boden- Bioenergie- und Nachhaltigkeits Netzwerk NÖ|EU)
Ing. Klemens Rybaczek
Braiten 5
A-3153 Eschenau
Email: office@biene-netzwerk.at