Elementary School of Radlberg – SOILINO, the project!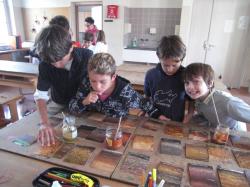 The 3rd and 4th forms of the elementary school of Radlberg created a fascinating piece of art in the school year 2009/2010, consisting of 26 DIN A4 pages concerning the topic of "impressions around the fascination of soil".
You can download this piece of art here. Soilino.pdf
The editorial staff of SOILart give their thanks to the committed teachers, the male and female pupils, for conveying the topic of "sensibly use, carefully protect our soil" in this interesting manner, and congratulate for this outstanding piece of art.
Below you will find a few snapshots of the pupils of the elementary school of Radlberg.
br>
Contact
Association BIENE
(Boden- Bioenergie- und Nachhaltigkeits Netzwerk NÖ|EU)
Ing. Klemens Rybaczek
Braiten 5
A-3153 Eschenau
Email: office@biene-netzwerk.at