ARTISTIC ADVISOR Ms. Irena Racek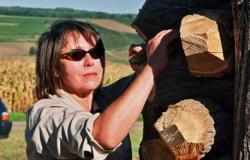 Irena Racek already acted as an artistic advisor of the competition "with the Colours of the Earth ", and now acts as an artistic advisor of the project SOILart. She was the one who made possible many means of an artistic treatment of the topic of "soil" in Lower Austria.
Through her wide spectrum of experience as well as her strong bonds to artists and organizations in the EEC, she is a competent asset to the whole "SOILart-Projekt." Click here for the homepage of Irena Racek. (http://www.irena-racek.at/).
br>
Contact
Association BIENE
(Boden- Bioenergie- und Nachhaltigkeits Netzwerk NÖ|EU)
Ing. Klemens Rybaczek
Braiten 5
A-3153 Eschenau
Email: office@biene-netzwerk.at