EU Projekt: Soilart!
Following the Lower Austrian example, from 2009 to 2010 a creative competition with soil colours shall be performed in the Czech Republic. Its aims are to further the creative potential of Czech pupils and to facilitate an exchange of experience with Lower Austrian pupils.
According to the slogan of the Department of Rural Development of the Office of the Lower Austrian Government, "our soil, upon which we stand", which actually addresses us all, creation of awareness for the resource of soil shall be stimulated across the borders.
These motives led to a common submission of a EU-project.
All schools of Southern Moravia will be contacted and invited to participate in the competition "Painting with the Colours of the Earth".
The opening oft he exposition PAINTING WITH THE COLOURS OF THE EARTH showing the 30 most distinguished paintings of the Lower Austrian 2008 competition will take place at Hodonin in September 2009.
The ceremonial opening of the competition will also be the kick-off of the Czech painting competition. Subsequently, a painting seminar for teachers will take place, which will be held by Irena Racek.
The painting competition shall last until spring 2010, and the ceremonial awarding procedure shall take place at the site of the Slavic castle site at Mikulcice.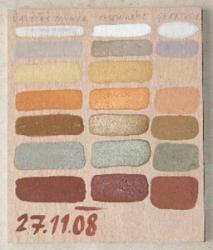 The soil colours which were used in the Lower Austrian competition were exclusively gained from domestic Lower Austrian soils (earth pigments). For the Czech competition, Michal Navratil, co-owner of the building company RIGI (ecologic buildings and loam renderings) offered to provide his earth pigments extracted from Czech pits. Bottling of the colours shall be performed by a social institution.
The SOILart team are pleased with the positive development of the project.
Description of images:
Image 1: Hodonin Museum - Location of kick-off event for EU-project
Image 2: Czech colour pigments/RIGI Building company
Images 3/4: Slavic castle site at Mikulcice - Location of final event
br>
Contact
Association BIENE
(Boden- Bioenergie- und Nachhaltigkeits Netzwerk NÖ|EU)
Ing. Klemens Rybaczek
Braiten 5
A-3153 Eschenau
Email: office@biene-netzwerk.at