Egypt Painting Seminar with the Colours of the Earth – Secondary School of Irnfritz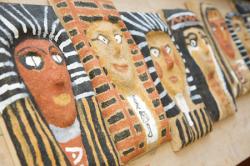 On March 25, 2009 at the secondary school of Irnfritz the painting seminar "Pictures of Mummies on Pottery" took place.
The topic of Egypt was conveyed by the artist Irena Racek in an artistically interesting manner.
Inquiries concerning the topic of the painting seminars:mailto:racek@soilart.eu
Below you will find photos taken at the painting seminar, which Ms. Nadja Meister has placed at our disposal.
br>
Contact
Association BIENE
(Boden- Bioenergie- und Nachhaltigkeits Netzwerk NÖ|EU)
Ing. Klemens Rybaczek
Braiten 5
A-3153 Eschenau
Email: office@biene-netzwerk.at