Donauländertagung - 2009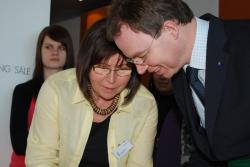 From March 19 to March 20, 2009 the 16th expert meeting (ECOLOGY WORKING GROUP FOCUSSING ON SOIL CONSERVATION OF DANUBE COUNTRIES WORKING COMMUNITY) took place.
Beside current legal framework conditions, reports from experience in many different countries were presented and discussed.
The Department of Rural Development of the Lower Austrain Government presented painting with the Colours of the Earth and were highly praised on an international scale for their commitment to create awareness.
In the picture:
Landesrat Dr. Stephan Pernkopf, who opened the meeting, painting with the Colours of the Earth under artistic supervision by Irena Racek.
Participants
March 19, 2009
March 20, 2009
March 19th 2009
Opening: Stephan Pernkopf (Austria)
Opening: Michal Dzatko (Slovakia)
Kurzinfo: DeMartin (Austria-DE)
Shortinfo: DeMartin (Austria-EN)
Walter W. Wenzel (Austria): Challenges and obstacles for soil protection at European level
Pavol Bielek (Slovakia): Soil Protection by European Soil Policy
Hans Christoph von Heydebrand (Germany): EU Framework Directive for Soil Protection: Views from Germany
Milan Sanka, Helena Bendova (Czech Republic): Soil Framework Directive: Views from the Czech Republic
Monika Stangl (Austria): EU Framework Directive for Soil Protection: The Austrian position
Anton Reinl (Austria): Soil protection from farmer perspective
Priority areas - critical review
Erwin Szlezak (Austria) / Irena Racek (Slovakia): Involving the public in soil protection: "With the colours of the earth…"
March 20th 2009
Marko Zupan (Slovenia): Humus management in Slovenia: Research and implementation
Pavel Tlustos (Czech Republic): Humus management in Czech Republic: Research and implementation
Tamás Nemeth / Laszlo Simon (Hungary): Carbon balances in Hungarian soils
Svetlana Antic / Vlado Licina (Serbia): Humus management in Serbia: Research and implementation
Maria Romic (Croatia): Organic matter content of Croatian soils: Regional differences and effect of agricultural management
Michael Zivkovic / Walter Wenzel (Austria): Humus management in Austria
Josef Springer (Austria): Consulting of Humus management - Examples of Lower Austria
Manfred Swoboda (Austria): Compost, biogas slurry, and fermentation residues
Project proposal by Michal Dzatko (Slovakia) and Michal Svicek (Slovakia)
Erwin Szlezak (Austria) / Irena Racek (Slovakia): Involving the public in soil protection: "With the colours of the earth…"
DCWG - Common Document 2008
2008 DCWG - soil conservation - common document de-en
br>
Contact
Association BIENE
(Boden- Bioenergie- und Nachhaltigkeits Netzwerk NÖ|EU)
Ing. Klemens Rybaczek
Braiten 5
A-3153 Eschenau
Email: office@biene-netzwerk.at